Infinitphase mkII - custom build for Steve Brown with CV mods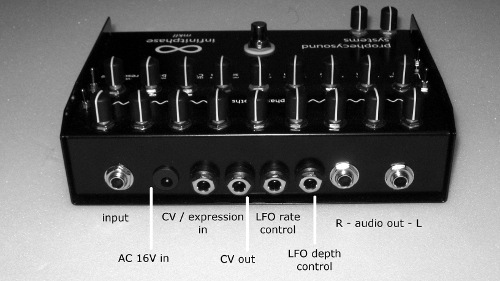 A super-custom infinitphase mkII, commissioned by producer Steve Brown (Corinne Bailey Rae + many others). There's an informative interview with Steve here, or checkout his Limefield Studio's site.
The following mods were added to Steve's infinitphase MkII:
stereo outputs
LFO speed switch
4/8 phase stage switch
LFO centre/height control
Sample and hold generator (with rate control and engage switch)
CV output socket; scaled from 0->5V
CV input / expression pedal input socket (0-5V scale)
sockets for passive control of LFO rate, LFO depth and step-sequence range
There's some additional PDF documentation on these mods here.